2019年7月 東京 Cultuart by Beams
2019年12月 台湾 Little Hut Gallery
そして2020年11月、いよいよANOTHER SIDE OF TEZUKAが香港へ上陸!
香港の情勢や新型コロナウィルスの蔓延など紆余曲折ありましたが、やっと実現にこぎつけました!
参加アーティストは
Rockin'Jelly Bean! Sony Suzuki! 金子ナンペイ!Kads Miida! 寺田克也!そして香港出身の世界的アーティストKasing Lungの6名!
この6人の描く手塚治虫ワールドを是非ご堪能ください!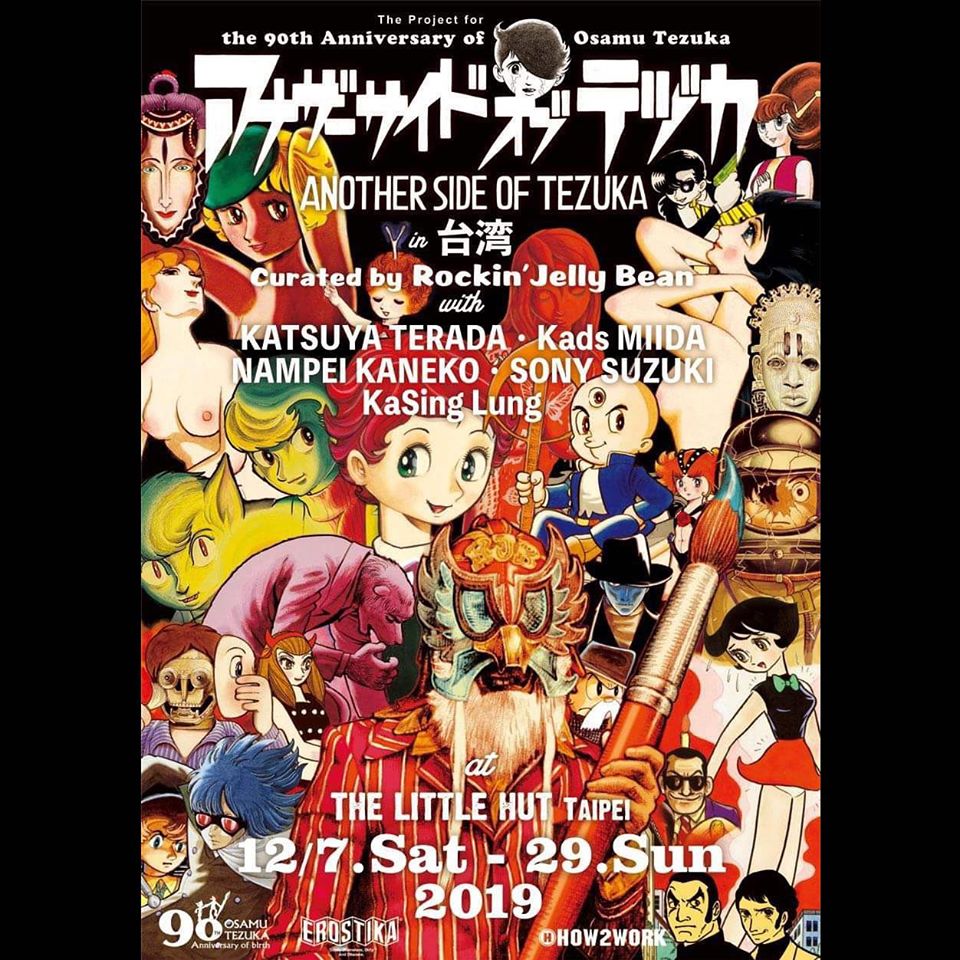 To celebrate the 90th anniversary of the world famous Japanese artist Osamu Tezuka's birth, the master a lowbrow art Rockin' Jelly Bean curated a group show "Another Side of Tezuka" earlier this July with tribute art works to Tezuka's famous comic characters from Katsuya Tereda ,Kads Miida, Nampei Kaneko and Sony Suzuki.
And we are bringing this great show to Taipei next month during December 7th to 29th. Also the great Hong Kong artist Kasing Lung is joining the show with a new art work.
We will have Rockin' Jelly Bean, Sony Suzuki and Kasing Lung in The Little Hut for signing session on December 7th. And more information about the exhibition will be updated soon so please stay tuned.
為了慶祝世界知名的漫畫家手塚治虫誕生90週年,來自日本的低眉藝術大師Rockin' Jelly Bean策劃了"Another Side of Tezuka"團展,並且邀請了寺田克也 ,Kads Miida, Nampei Kaneko和Sony Suzuki等藝術家以重新描繪的手塚先生筆下角色的方式向大師致敬。
我們將於12月7日至29日期間把這個精彩的展出帶到台北,同時目前相當受到矚目的藝術家龍家昇也會在台灣站以新的作品加入展出。
同時,12月7號當日我們也將邀請到Rockin' Jelly Bean, Sony Suzuki和龍家昇等三位藝術家來到現場,並舉辦簽名會。關於展覽的更多資訊將會在近期陸續公布,敬請留意後續的消息更新。
Another Side of Tezuka curated by Rackin' Jelly Bean
Venue : The Little Hut
Hour : Dec 7th- 29th 14:00~20:00
Address : [The Little Hut] No. 3, Lane 62, Yanji St., Taipei City / 台北市延吉街62巷3號
We will keep update for merchandise.
Don't forget to keep watching our Facebook page!
https://www.facebook.com/tezuka90rjb/