コロナウィルスの影響で開催延期しておりましたANOTHER SIDE OF TEZUKAですが、
やっと、来週開催に漕ぎ着けました!2019年7月 東京 Cultuart by Beams
2019年12月 台湾 Little Hut Gallery
そして2021年2月、いよいよANOTHER SIDE OF TEZUKAが香港へ上陸!
香港の情勢や新型コロナウィルスの蔓延など紆余曲折ありましたが、やっと実現にこぎつけました!
参加アーティストは
Rockin'Jelly Bean! Sony Suzuki! 金子ナンペイ!Kads Miida! 寺田克也!そして香港出身の世界的アーティストKasing Lungの6名!
この6人の描く手塚治虫ワールドを是非ご堪能ください!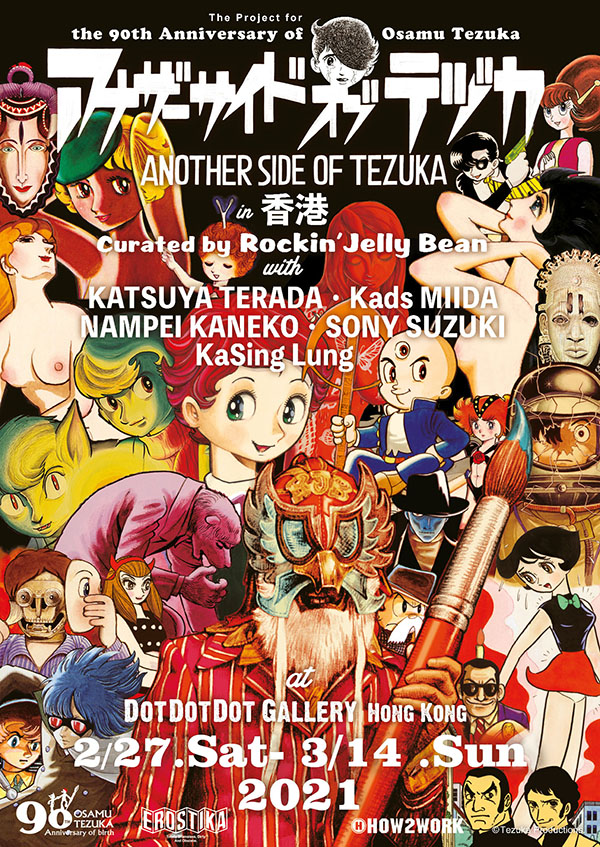 To celebrate the 90th anniversary of the world famous Japanese artist Osamu Tezuka's birth, the master a lowbrow art Rockin' Jelly Bean curated a group show "Another Side of Tezuka" 2019 July with tribute art works to Tezuka's famous comic characters from Katsuya Tereda ,Kads Miida, Nampei Kaneko and Sony Suzuki.
And we brought this show to Taiwan 2 years ago with great artist KaSing Lung.
And finally, we are bringing this great show to Hong Kong this month during February 27th to March 14th.
「ANOTHER SIDE OF TEZUKA」
Exhibition detail:
Date: 2021.2.27 – 2021.3.14
Dot Dot Dot Gallery
10/F, Pang Kwong Building, 59 Hung To Road, Kwun Tong, Hong Kong
Opening Hours:
Tue – Sun 14:00 – 20:00
(Close on every Monday逢星期一休息)
特別防禦措施
進入畫廊人士須接受測量體溫,若有發燒徵狀,請勿進入畫廊。進入畫廊人士須使用酒精搓手液及佩戴自備口罩。
本畫廊會因應情況,控制參觀人士的人流。並會檢視情況,有需要時將調整有關預防措施,謹請參觀人士合作。
Special precautionary measures
Visitors are subject to temperature check before admission. Visitors with fever symptoms will not be admitted. Visitor should apply alcohol hand sanitizers before admission. Visitors must wear mask before entering the Gallery.
The Gallery will review the situation, control the flow of visitors and adjust relevant preventive measures as and when necessary. Thank you for your kind co-operation.
Dot Dot Dot Gallery Facebook Page
https://www.facebook.com/Dot-Dot-Dot-Gallery-1885108415083873/